Metagenomics/Macrotranscriptome
Metagenomics refers to the genetic sequencing of microbial populations in environmental samples using methods such as high-throughput sequencing to obtain the gene function, composition and abundance of microorganisms. Metagenome sequencing can be used to study the functional properties of microbial populations, their interaction with each other, and their relationship with the environment. Compared with traditional methods, there is no need for pure culture, which greatly reduces the cost, cycle and species richness of research.
---
Application Fields
Medical research
Diagnosis and classification of disease, diagnosis of disease recurrence, exploration of etiology and pathological mechanism, evaluation of clinical efficacy, and pharmacotoxicological evaluation.
Life science research
Research on abiotic environment relationship, plant and microorganism, application in phenotyping, metabolic pathway and functional genome research, application in medicinal plant research.
---
Sample Requirements
Soil / sludge / sediment / humus ≥ 3g
Milk / yogurt ≥ 30ml
Stool / intestinal contents ≥ 2g
Dry ice shipping
Store in liquid nitrogen or -80°C
Water filter membrane / air filter membrane ≥ 3 sheets
Rumen fluid/fermentation fluid/tissue fluid/washing fluid≥ 3 ml
---
Case Analysis
Microecological Koch's Postulates Reveal that Intestinal Microbiota Dysbiosis Contributes to Shrimp White Stool Syndrome
Journal: Microbiome Impact factor: 14.650 Published date: 2020 Published by: School of Marine Science, Sun Yat-Sen University
Research Background
There are 100 to 1,500 species of nearly 100 trillion bacteria in our human intestines, and this number is also very considerable in other organisms. These bacteria interact with the host, and normally maintain a symbiotic or antagonistic relationship between the intestinal flora, which is the main reason why the host intestinal flora can be in a microecological balance. More and more evidence shows some complex diseases are strongly associated with dysregulation of the host gut microbiota (IM). Alterations of the whole gut ecosystem, rather than a single pathogen, are associated with white stool syndrome (WFS), a severe global non-infectious shrimp disease for which there is no experimental evidence to explore causality. In this study, we performed a comprehensive metagenomic and metabolomic analysis and performed gut microbiota transplantation (IMT) to investigate the causal relationship between IM dysregulation and WFS.
Technical Route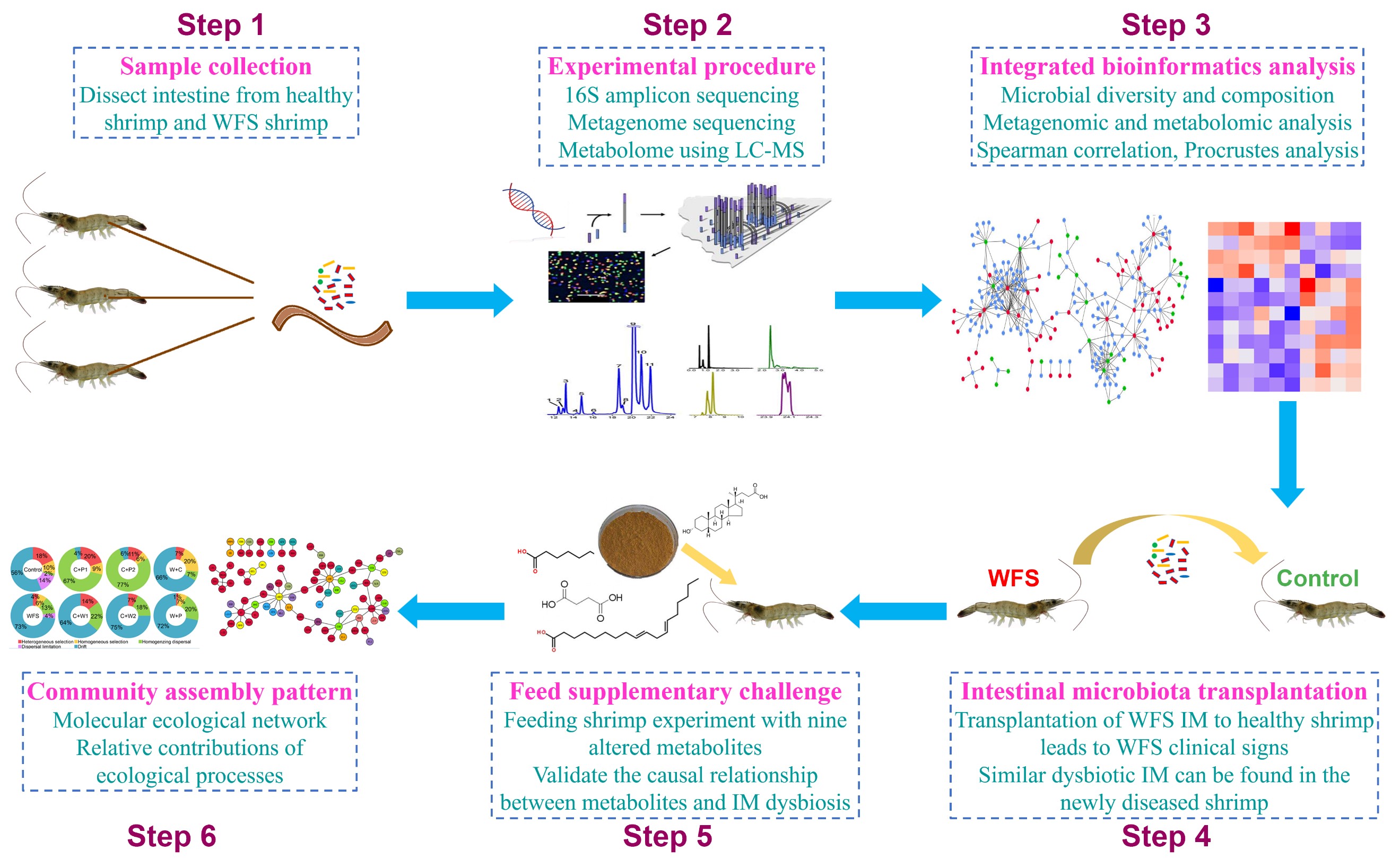 Research Result
The article exemplifies the pathogenic role of IM dysregulation in the development of shrimp WFS. The research design and key findings were synthesized into a conceptual model, as shown in Figure 5. The Koch hypothesis for the microecology of WFS shrimp is that (1) similar prebiotic IM is present in all WFS shrimp; (2) prebiotic IM can be recovered and transplanted into healthy shrimp; (3) transplanted IM can lead to similarities to WFS shrimp (4) recharacterization of prebiotic IM components was consistent in new WFS shrimp.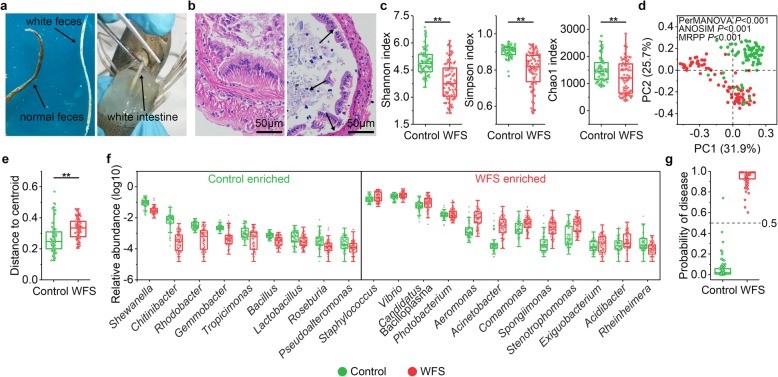 Characterization of clinical symptoms, histopathology, and microbiological features of WFS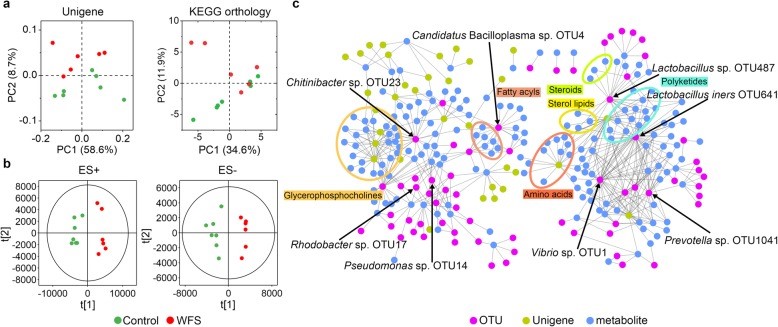 Comparative analysis of microbial gene function and metabolic patterns between controls and WFS

IM transplantation causes similar WFS symptoms, schematic illustration of IMT procedure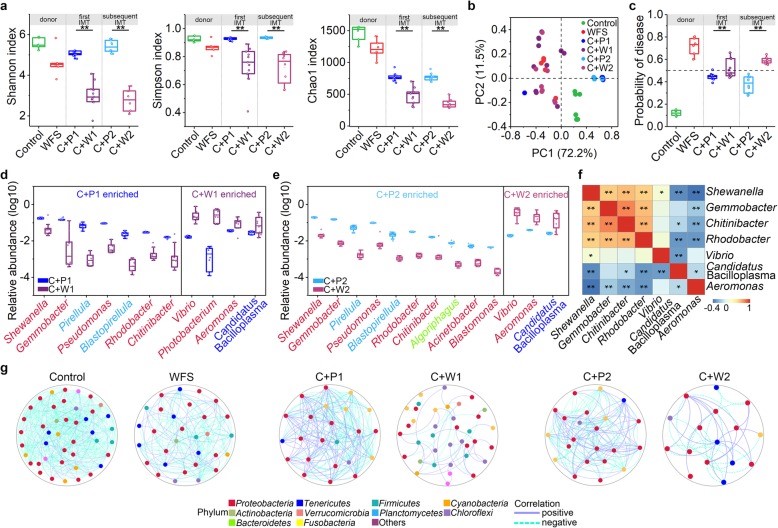 Re-characterization of IM dysbiosis in newly-emergent prawns
Conclusion
These principles were validated with multi-omics data, revealing a causal relationship between IM dysregulation and the occurrence of WFS, thereby opening new insights into aquatic animal disease etiology from an ecological perspective.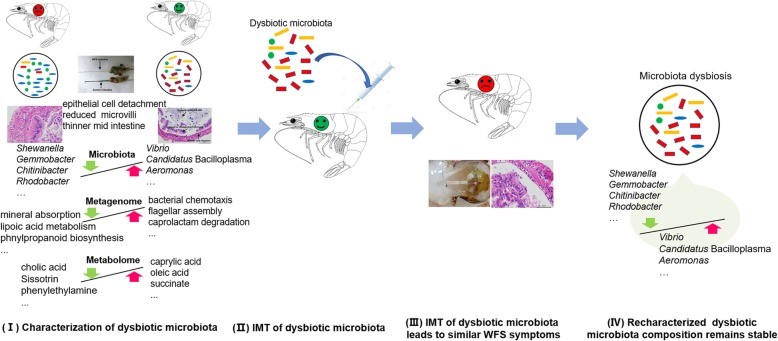 Reference
Huang Z, Zeng S, Xiong J, Hou D, Zhou R, Xing C, Wei D, Deng X, Yu L, Wang H, Deng Z, Weng S, Kriengkrai S, Ning D, Zhou J, He J. Microecological Koch's postulates reveal that intestinal microbiota dysbiosis contributes to shrimp white feces syndrome. Microbiome. 2020 Mar 10;8(1):32. doi: 10.1186/s40168-020-00802-3. PMID: 32156316; PMCID: PMC7065354.